This review is from Graham Reid of Elsewhere and can be seen here:
From the late Eighties and well into the Nineties singer-songwriter Christine White was a fixture on the Auckland music scene and she sprung a number of recordings with her band or under her own name (if I recall, I certainly recall writing about her a lot).
She was also an exceptional guitarist, tough and bluesy when required.
She seemed to be everywhere – if "everywhere" was mostly the Java Jive and Gluepot – and played pubs and bars, gay/lesbian festivals and anywhere she could.
You admired her tenacity as much as her music.
Then she seemed to disappear.
Turns out she did a degree in Sonic Arts at Victoria Uni in Wellington and so became a performance artist experimenting in sonics and creating her own instrument The Workbench which had a bunch of stuff (wine racks, over grills and such) on a Black and Decker workbench. Sort of a Waitsean reinvention?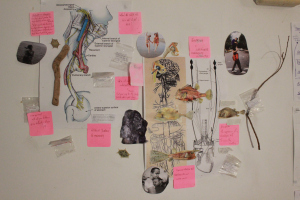 She also explored collage techniques in music and a few of her visual collages appear in the gatefold sleeve of this exceptional first album in . . .
Oh, just ever-so-long!
That reference and metaphor of collages informs this album which is very long way from her former incarnation as folk-cum-blues singer.
Here everything is (mostly) turned down, thoughtfully quiet, emotionally and lyrically layered in nine six minute-plus songs which are in no hurry to make their points but allow for a gentle quasi-ambient folk sonic/soundscape to do the work.
In places there are subtle suggestions of that sonic arts world in the backdrop: notably on the seven minute Cowfish which gradually opens like a bright flower filmed in time-lapse and eases towards intelligent prog-folk, and the opening clank'n'distortion and central ethereal passages of the otherwise dreamy That Sun – That You.
The latter is a real sonic alert and you can hear why this album came with (aside from crowd support) funding from Creative New Zealand rather than NZonAir.
What follows however is the gentle acoustic piece Falling Down ("back at here at the start again, a baby learn to walk . . .") which brings together the personal with the universal, as well as tracing the arc of post-Darwin thinking about our origin as a species. That's a big picture, and the final few minutes are a compelling and heroic pop song.
And is that a reference to St Peter's crucifixion in there?
Whatever: That's a big picture, and the final few minutes are a compelling and heroic pop song.
That said, White is a music/creative artist whose peers are closer to Bjork, Laurie Anderson and Dudley Benson (and probably even a more benign Peter Beard in her collage consciousness) than any pop-rock aimed for radio play.
There is hurt and healing here as the title suggests: the compelling 7.45 minutes of Harmony comes at you from the distant and echoed ether . . .
And no one to my knowledge has ever written a song with the title of the element Molybdenum. If they had, I seriously doubt it would be as gorgeously uneasy and imbued with self-doubt but reassurance as this one. It is extraordinary.
And the final piece is the seven minute Remnants which opens with the arresting line "She fell her to death but didn't die . . ." and has all the noir-resonance of some Scandi-drama but then becomes inclusive and thrashingly aggressive feminist-assuring rock (then after a long silence there is a hidden coda of seductive vocals from some romantic afar).
Given all that – – it's hardly surprising that when she performs this with the small band she has on this album (the dextrous bassist Tim Jaray and drummer Rick Cranson) she sometimes presents these songs as a multi-media show with images, journal extracts and such.
This is a very impressive album which bridges art music, folk, literature and visual images.
Christine White has come a long long way from the Java Jive days, that's for sure.
Think of her this way . . . and not if you knew her in pubs all those distant decades ago.
Highly recommended.
I think it is available on gatefold CD here.